Main act EC 2018
Sehr verehrtes Publikum: der Hauptakt für den EC 2018 steht fest: "Thorsten Quaeschning's Picture Palace music" plays [CARGO]. Dabei wird Thorsten erstmals im Circus mit einem Streichquartett von 4 Musikerinnen auf der Bühne stehen. Wir freuen uns auf ein Hammer-Konzert !!!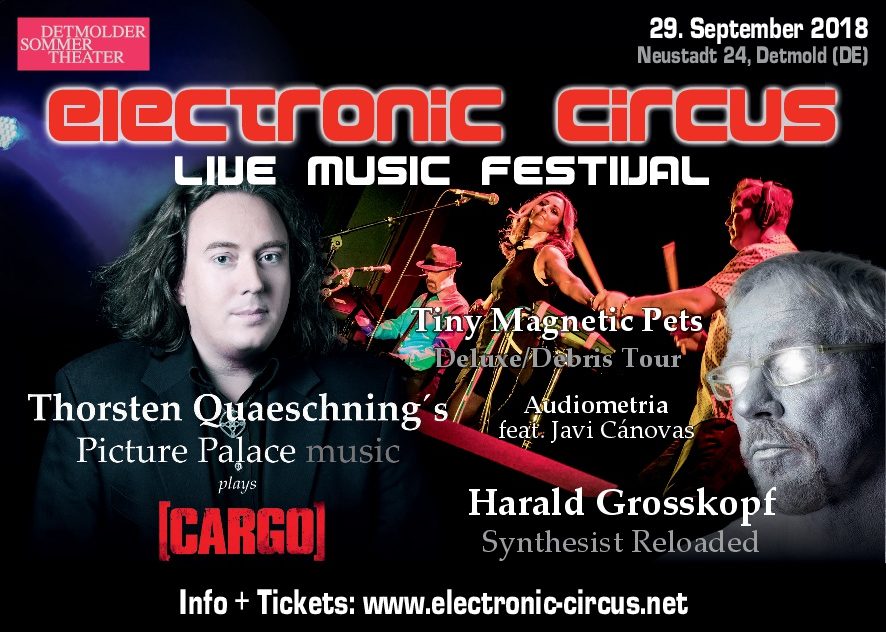 At the 11th Edition of the Electronic Circus Festival on 29.09.2018 at the Sommertheater in Detmold, Germany the following will happen:
Thorsten Quaeschning´s Picture Palace music plays Cargo
Thorsten Quaeschning (seit 13 Jahren Mitglied von Tangerine Dream plus Kollaborationen mit Brian May, Jean Michel Jarre, Ulrich Schnauss und Franz Bargmann) wird seinen Soundtrack "CARGO" zum gleichnamigen Thriller des Regisseurs James Dylan inklusive des Star-Schauspielers Ron Thompson als Haupt-Protagonisten beim "Electronic Circus Festival" uraufführen.
Der Soundtrack vereint typische Tangerine Dreamesque Sequenzen mit Synthwaves und 80s Horror (John Carpenter) Einflüssen.
Teil des Picture Palace music Lineups wird ebenfalls ein Streichquartett mit Hoshiko Yamane, Anne Uerlichs, Julia Hecht und Monika Berstis sein.
Neben "Cargo" werden Picture Palace music im rein instrumentalen Set auch viele neue Stücke und ein paar Klassiker spielen.
Das vom "Mojo" Magazin als "Soundtrack of the Month" ausgezeichnete Album erhielt ein hervorragendes Presseecho.
Thorsten Quaeschning (member of Tangerine Dream since 13years plus collaborations with Brian May, Jean Michel Jarre, Ulrich Schnauss and Franz Bargmann) will perform for the first time ever his soundtrack "CARGO" to the eponymous thriller by director James Dylan including star actor Ron Thompson as Main protagonist at the "Electronic Circus Festival".
The soundtrack combines typical Tangerine Dreamesque sequences with synthwaves and 80s horror (John Carpenter) influences.
Part of the Picture Palace music lineup will be a string quartet with Hoshiko Yamane, Anne Uerlichs, Julia Hecht and Monika Berstis.
In addition to "Cargo", Picture Palace music will also play many new pieces and a few classics in a purely instrumental set.
The Mojo Magazine's "Soundtrack of the Month" album received an excellent press response.
Presse Echo/Press response
"If ANYONE knows how to pastiche an ´80s Tangerine Dream soundtrack it´s Thorsten Quaeschning of Picture Palace music who in 2005 became a full-time member of Tangerine Dream. For his score…,he gets everything right: the pulsing and fizzing electronics, the incidental melancholy drones, the subterranean clangs and, with the help pf a cello/viola/violin string trio, moments of bleak gliding Michael Nyman-esque beauty. If you need to check the veracity, listen next to the smashing reissue of Tangerine Dream´s…Miracle Mile…simultaneously nod to John Carpenter´s synth minimalism, PoplVuh´s electronic choirs, Moroder´s digital Euro-pop and their own kosmische past"
(Mojo Magazine)
"…the OST created by Tangerine Dream man, Quaeschning is everything you'd expect from someone so long connected with enigmatic electronic music. …Tension is round every corner…. Thorsten Quaeschning and his Picture Palace Music have achieved exactly the opposite, the sounds that has been lovingly crafted for Cargo hugely effective on its own terms and I'm sure also hugely integral in creating the mood of the movie itself."
(Sea of tranquility)
"…Quaeschning really fires on all cylinders here…The composer himself is a multi-instrumentalist, playing piano, glockenspiel, drums and electric guitars in addition to the synths and electronics. This "band feel" is on display in the rock-infused, wall-of-sound-like track «Spotlight Effect» and in «Aggravated Circumstances» with its distorted guitars. These tracks are closer to the post-rock genre and highlights Picture Palace Music more as progressive rock than electronic music. Other tracks are more 70s/80s electronica…will provide Thorsten Quaeschning more opportunities in the film music world. He has now joined the long list of (former) Tangerine Dream members who have dipped their feet into American cinema…"
(Celluloid Tunes)
"…In the driving hands of Tangerine Dream musician Thorsten Quaeschning and his band Picture Palace, "(Cargo)" has a pulsating, sumptuous groove that opens up the sinister forces outside of its metal container, while playing the increasingly crazed escape efforts of a perhaps not-so-innocent business manager…Making a far easier breakthrough in "(Cargo)" is Quaeschning, whose time spent with Dream-maker Edgar Froese shows off considerably with a score that brings to mind such classic TD soundtracks as "Thief," "Near Dark" and "Miracle Mile." Like his prog-rock mentor, Quaeschning shows a powerful, propulsive ability to run with ever-building melodic ideas. Quaeschning palpably conveys the developing panic, then fury of its antihero, his music atmospherically reflective for one stretch, the furiously spinning from one potential avenue of release to the other…"
(Film Music Magazine)
Thorsten Quaeschning's 'Cargo' is a set of well paced, carefully constructed electronic pieces running the gauntlet from taut electro to sweeping, panoramic ambient. It's a selection of compositions that form a salient, powerful atmosphere all of their own. Fans of Quaechning's work, both in and out of electronic-innovators Tangerine Dream, should look into this post-haste.
(Vinyl Corner)
"The soundtrack here is awesome by Tangerine Dream's Thorsten Quaeschning! It really reminded me of John Carpenter's THE THING at times"
(Ain´t it cool)
Welcome to the show Thorsten & Band !!